Cowboy Boots with Sundresses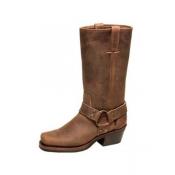 It sure has been hot here in Austin this summer — seems like we've hardly had a day where the temperature didn't hit at least 100. But with summer weather comes summer trends, and one women's fashion trend in particular has caught our eye: cowboy boots with sundresses. From shoppers on South Congress Avenue to fans at Round Rock Express games, it's pretty easy to spot someone pairing cowboy boots with a sundress. And from what we've heard, this trend is a hit in other cities besides Austin.
Cowboy boots with sundresses is such a great summer trend. It's fun, it's cool and, well, we're partial to cowboy boots worn just about any way. One of the great things about clothing items like sundresses is that you can change their look just by simply changing your accessories — like your footwear. Flip-flops make it ultra-casual, flats are casual, heels dress it up, and cowboy boots make a big statement.
You can really show off your personality when you pair cowboy boots with sundresses. From what we've heard, this style attracts a lot of attention and garners lots and lots of compliments and turned heads.
Cowboy Boots at Allens Boots
So you've got the sundress — what about the cowboy boots? We have an outstanding selection of cowboy boots at Allens Boots. Choose from women's Frye boots, Lucchese boots, Ariat boots and more. There are all kinds of colors and styles available.
We not only carry women's cowboy boots, we also carry men's cowboy boots and children's cowboy boots. Plus, there's even more to shop for, like Wrangler jeans, cowboy hats, belt buckles, jewelry and more. And if you're looking for gifts for that special someone — whether it's a birthday gift, anniversary gift or just because — we've got those, too. Shop online, or visit one of our Austin Allens Boots locations.